Meet Sue Dodd
Betty is truly inspired when it comes to designing floral arrangements for brides with a specific vision for their Niagara Wedding.
---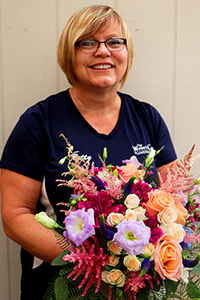 Betty's Floral Journey
Betty's lifelong love of flowers began as young girl playing in her fathers garden. Her immense attention to detail and her incredibly eye for color evolved from immersing herself in horticulture.

 Today, her experience, along with her passion, creativity and natural talent for design help her to execute each client's individual vision.  Along her journey, Betty has gained invaluable insight and relationships with our Niagara venues.

 Drawing from her European heritage, Betty enjoys crafting garden-style hand-tied bouquets, garlands and tablescapes.

 With an intuitive approach and a love for serving brides, Betty crafts each couple's story by weaving bespoke wedding details, design and more into every brides dream.
---
It was so much fun to work on Lucy & Chien's wedding flowers – they love colour and let me unleash by creativity with a truly brilliant colour palette. It was a great process and they were thrilled!
---
Betty's Inspiration Gallery